The Nelson Committee On Homelessness is pleased to release its 9th Annual Report Card on Homelessness in Nelson.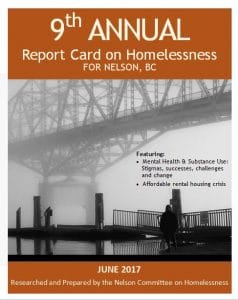 This Report Card focuses on mental health and substance use issues: who is effected, causes, the connections between mental health problems and substance use and their relationship to homelessness, and how the community is working to address these issues and the rising opioid crisis.
It explores the lives of people in our community living with these issues and the stigma they feel and the barriers they face – in their daily lives,  when trying to get the help they need from the medical profession or when trying to find work.  It encourages people to move beyond perceptions and to talk with people, rather than about them.
The Report Card also focuses on the affordable rental housing crisis in Nelson… and in Canada, with reports on NCOH's Advertised Rental Survey, and for the first time, a regional rental survey of advertised rates of rent.
And as in every Annual Report Card community indicators related to poverty, income and housing are tracked to report emerging trends.
For more information:  ncoh@nelsoncares.ca or 250-352-6011 x19.
For a printable copy of  this report, click here.
To Print follow these instructions: legal, landscape, 2-sided – flipped on short side, folded & stapled in centre.
Please email ncoh@nelsoncares.ca if you would like to receive a higher resolution pdf to READ  (16.7 Megabytes).
For an online readable copy of this report, click here.
For the media release, click here.