is the theme for a week packed with events from October 9 to 13.
Affordable housing has become an issue of increasing concern in Nelson over the past year.  People of low income are hit the hardest.  Yet it is increasingly hard to find affordable housing in town, whether you're a young family trying to find an affordable place to rent or buy, an new employee moving here and looking for affordable housing, a student,  a senior on fixed incomes who want to down-size or rent, or someone living on low-to-modest wages or on Income Assistance or a Disability Benefit.
Market pressures have increased prices in both the rental and home-owner markets over the past year. Our hope is that our community can explore the issue of affordable housing in Nelson together to come to a better understanding and appreciation of the needs, challenges, options and opportunities available as we try to address this most basic need for a healthy, vibrant community.
Chuck Bennett of Coldwell Banker, Rosling Real Estate is the Honourary Chair of this year's Homelessness Action Week, organized by the Nelson Committee on Homelessness (NCOH).  NCOH is honoured to have him as this year's Chair. He brings a solid knowledge of the local housing market, and will be moderating some of the week's events.
Whether you are:
a concerned citizen
someone looking for affordable housing to rent or buy,
a landlord struggling with rental issues,
a potential landlord wondering if you want to rent a place out or renovate a place to rent out,
a builder or developer struggling with how to meet an affordable market price point
an employer worried about attracting employees who can't find affordable housing
a business owner/operator concerned about the rise of homelessness in BC
someone who has no housing
a Nelsonite who wants this town to be affordable for a cross-section of incomes
there is something for you in this week of events!
Our hope is to offer information and spark community conversations, to share the realities of grappling with trying to develop, build, provide, rent or buy affordable housing… and explore ideas, options and opportunities to address this issue together.  With better understandings of the needs, challenges, options and opportunities come possibilities for solutions.
The events are supported by the Columbia Basin Trust, Nelson United Church, Nelson & District Credit Union, the Hume Hotel, the participants of NCOH and members of your community.  Thanks to all!
For further information please contact:
Ann Harvey, Community Coordinator
Nelson Committee on Homelessness (NCOH)
521 Vernon Street, Nelson BC  V1L 4E9
250.352.6011 ext.19  F. 250.352.9855
ncoh@nelsoncares.ca
Or visit NCOH on Facebook or Website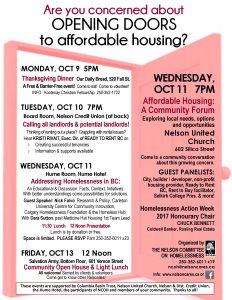 For a printable copy of this poster, click here.