Here is an interested bit of history on Lakeside Place by "The Kutne Reader"
Please click here to access the  full article.
Lakeside Bungalow Court
I had a call recently from Mitzi Hufty, who was reminiscing about the old Lakeside Motel in Nelson — presently being demolished to make way for Lakeside Place , a 47-unit housing project for seniors and people with disabilities.
She remembered the motel as a kid in the 1940s, having moved to Nelson from Slocan City. It was then called Lakeside Bungalow Court.
"I remember the motel perfectly," she told me. "We used to cut through it all the time to go swimming at Lakeside Park.
"Funny the things you remember: they had a payphone outside the office. My dad had four girls and he restricted our time on the phone, so we used to walk down to the payphone. I think it was only a nickel and we could talk for a long time."
Mitzi's family lived in the 700 block of 3rd Street. She also remembers Jimmy Ringrose's store "that sold groceries and the biggest ice cream cones." It was demolished to make way for the orange bridge in 1957 but would have been close to the present ambulance station.
As for the motel, "a lot of construction guys lived there – a few were working up the Slocan Valley. It was interesting because most people in those days weren't transient. We always looked at the motel as wow, people are coming here and staying while?"
Mitzi remembers a few of the proprietors, including the Ignatieffs and Bergerons. She also recalls Mrs. Kettlewell, who had the Windsor Cabins next to Lakeside Park. "She used to go nuts because we'd walk through her auto court."
The postcard seen above was taken in the 1960s by Art Stevens. The reverse says:
LAKESIDE BUNGALOW COURT
805 Nelson Ave., Nelson BC
17 units, fully modern, single, double or three bedroom. Kitchens, television, reasonable rates. Near Lakeside Park and swimming pool. Just off west end of Nelson Bridge. Alice and Art Bergeron.
When was it built? This proved a tricky question. BC Assessment indicates 1947. Yet it was already listed in the 1946 civic directory with W.S. Hamilton and A.H. Sereda as proprietors. The following year Hamilton and Sereda are listed again, and then in 1948, Andy Sereda is the sole proprietor.
A 1951 list of members of the Kootenay Lake Auto Courts and Resorts Association showed Frank and Lewis Chase running it by then. It included this description:
Twenty-three modern housekeeping units; 13 have private bathrooms; 4 semi-private. One block from swimming and Lakeside Park. All city conveniences. 805 Nelson Avenue. Open all year.
Phone 864. Official AAA member.
The brochure also advertises Bluetop Bungalow Court (T.D. Rosling, proprietor, Miss Jean Spiers, manager) at Gordon Road and Fourth Street; Creekside Auto Court on what's now Ymir Road (Ada and Bruce Clark, prop.), the Ferry Auto Court near the former ferry landing, run by Mrs. M.L. Armstrong, and the aforementioned Windsor Cabins, run by Mr. and Mrs. W.K. Kettlewell at 821 Nelson Ave.
(The terms "auto camp," "auto court," and "bungalow court" have all disappeared, although the Gray Creek Auto Camp survived as a delightful anachronism until just a few years ago.)
I thought that ended the matter, at least as far as when Lakeside Bungalow Court was built. If it wasn't 1947, I figured it must have been only a year or two earlier. However, I did a double take when I saw a 1930s travel guide exhibited at this year's Gray Creek Museum Days. An ad for Fleming's Cabin Camp contained this photo, which was unmistakably the same place as the future Lakeside Bungalow Court.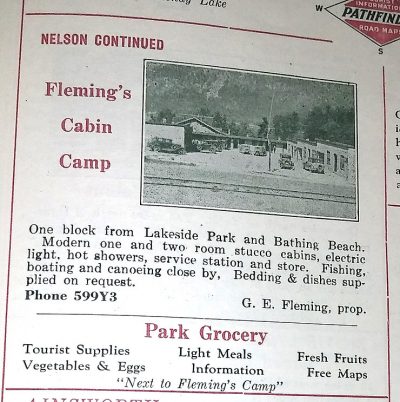 Note the streetcar tracks in the foreground. Comparing this photo to the postcard, we see the office was expanded later on and a second storey added to the units on the right.
Fleming's Cabin Camp was only listed in the 1934 and 1935 civic directories, with an address of 801 Nelson Ave., rather than 805. Proprietor George E. Fleming was also manager of the Singer sewing machine shop on Baker Street until his death in Nelson in 1938, age 59.
I didn't know what name the motel had after 1935, but Frederike Verspoor of the BC Archives quickly came to the rescue on Twitter
It was listed in the civic directories from 1936 to 1945, in conjunction with a service station.
The proprietor was Marie Shardelow, a widow, with help from Edward and Mary Shardelow. I believe they were her stepchildren — they all lived at 1204 Water Street. Marie died in 1940, age 59. A few months later Mary married Alexandrie Ioanin. Edward was killed on Aug. 15, 1944, at the start of the Allied invasion of Southern France, age 32. His death registration listed him as the operator and proprietor of an auto camp and gas station. From 1943-45, the civic directory listed R.E. Weaver as manager of Shardelow's Auto Camp at 805 Nelson Ave.