The Nelson Committee on Homelessness is pleased to release its 10th Annual Report Card on Homelessness in Nelson.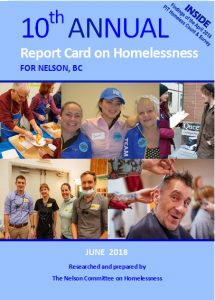 This year's report highlights findings from Nelson's second Point-in-Time (PiT) Homeless Count and survey conducted over a 24 hour period on April 10/11, 2018.   Sixty-five volunteers hit the streets, shelters  and service locations around Nelson to gather information about the extent and nature of homelessness in Nelson, hear about people's situations, discover what barriers they faced in securing safe, permanent housing and record what they thought could best help them.  The Count was part of a coordinated effort by communities across Canada from January to April of 2018 to measure homelessness in their communities, as part of the federal government's Homelessness Partnering Strategy (HPS).  An emphasis this PiT Count was to identifying youth who were homeless and at-risk, including those experiencing hidden homelessness. This took place over a longer period of time in cooperation with Nelson Community Youth Services, the Youth Centre and the Selkirk Students' Union.
The Report Card also provides updated information on community indicators and trends effecting homeless people and those living in poverty in Nelson. The successes and achievements of NCOH members and community partners over the last year to address homelessness and poverty in our community are also featured.
For a printable copy of this report, click here.

The Co-Chairs of NCOH, Phyllis Nash and Cheryl Dowden, wrote a Letter to the Citizens of Nelson to accompany this 10th Annual Report Card.
It is an invitation, a suggestion and even a challenge. We hope you take the time to read it. Thank you!
NCOH Co-Chairs LTR re 10th Annual Report Card on Homelessness